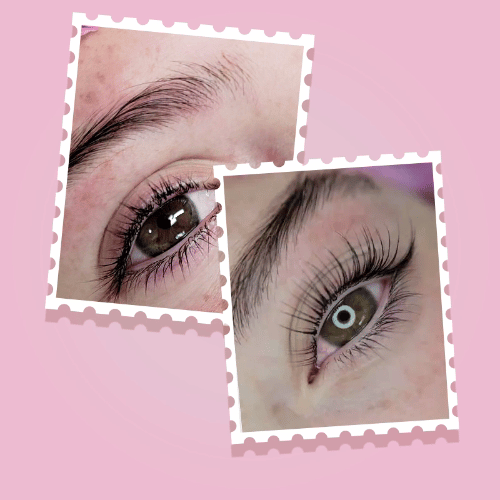 Get long and curved lashes without using lash extensions
Forget about tons of makeup and fixing with our Lash Lift and Tint service, you will achieve beautiful and long-lasting results.
Restore personality and naturalness to your face and achieve a clean and fresh look.
At Fran Brows Studio, we perfectly understand the problems you face as a woman on a daily basis.
Suffer no more for your straight and messy lashes!
Our Lash Lift and Tint service is:
Perfect for stubborn, straight, or short lashes.
You don't have to fight a daily battle between your lashes and mascara anymore, just to try to give them a little shape after consuming a large part of your time
Perfect for lashes that fall onto your eyes.
Do not suffer anymore wearing a tired and sad look for having very straight or shapeless eyelashes.
Perfect for unnoticed lashes.
If you also have very blond and almost imperceptible eyelashes, we recommend this Lash Lift and Tint service
Because there's no point in having perfectly curled lashes if they go unnoticed!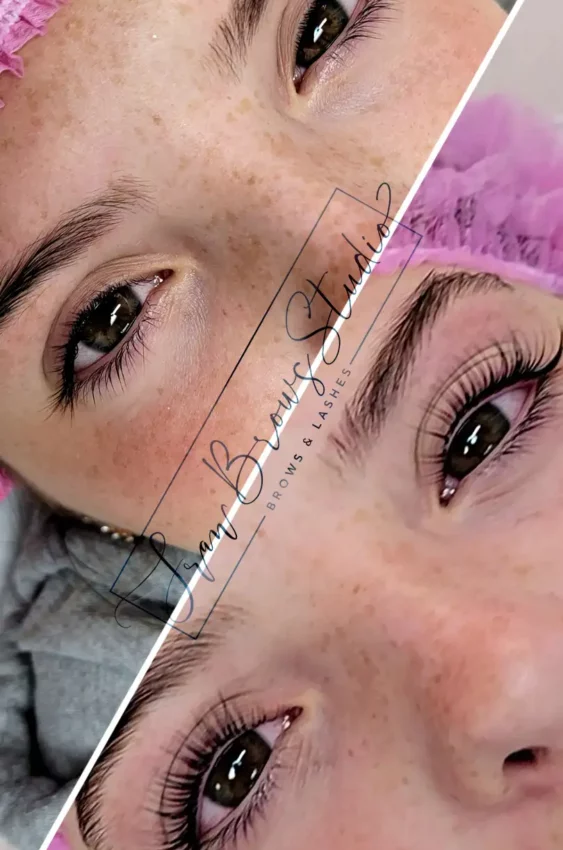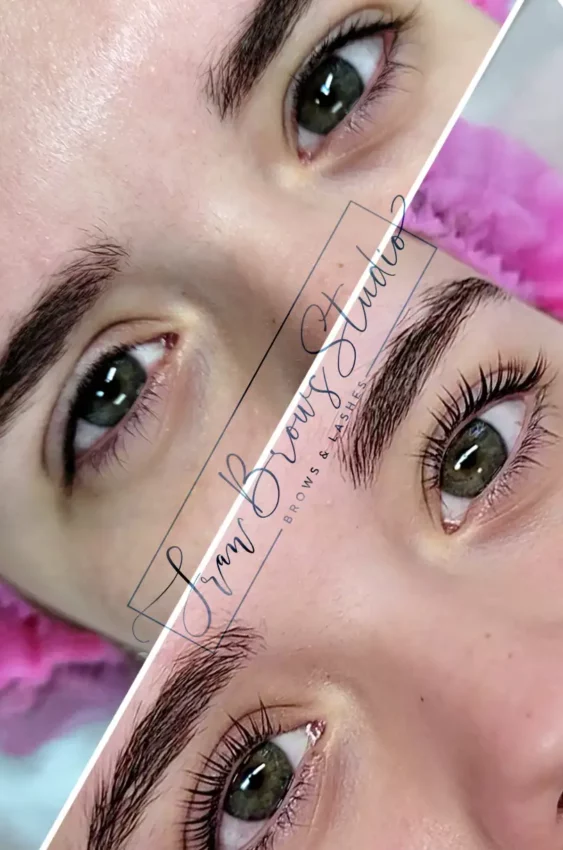 Nervous about the procedure?
Don't worry! Here, we'll tell you what to expect during your visit.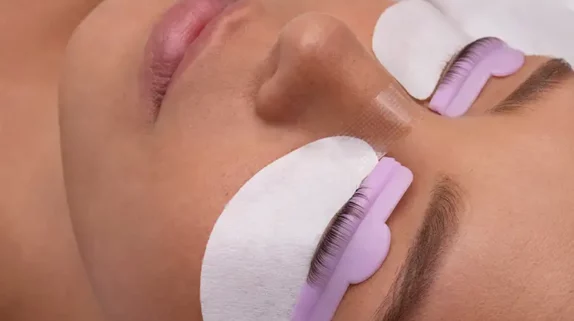 Consultation and preparation:
Before we get started, we´ll walk you through the service. We will assess how your eyelashes should look the right way for your eyes and provide you with information on easy aftercare to follow after treatment to enjoy the best results.
Next, we´ll prepare you by cleaning your eyes and isolating your upper lashes from the lower ones.
Step 1:
A lotion will be applied to your lashes to make them more malleable, and get desired curl.
Step 2:
Once your lashes are shaped, we will apply a fixing lotion that seals the curl. Then, we apply the tint so your fabulous lashes don't go unnoticed!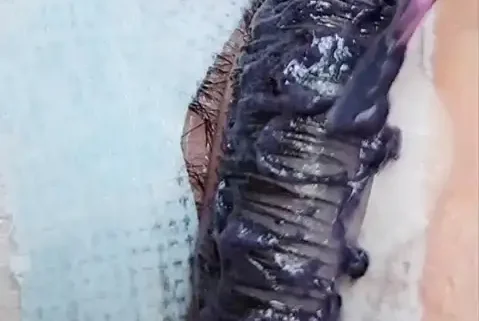 Step 3:
We will clean off the excess lotions with a nourishing agent that strengthens and hydrates your new fabulous lashes.
schedule your appointment
Get lashes that will give you a younger and more defined look!
Enhance your natural beauty with the best lash lift specialists
Forget about the discomfort you may have experienced with false lashes; in this case, your own lashes take center stage.
No damage to lashes
You don't have to worry about damaging your natural lashes. We use a gentle, safe and painless process, using high quality products of strict professional use, wich do not damage your natural hair or skin.
Suitable for people with allergies
The products used at Fran Brows Studio are hypoallergenic and cosmetic grade, making them suitable for people with allergies or sensitive skin.
Long-lasting
The lash lift and tint service can last up to 6 weeks, which means you don't need to do it frequently.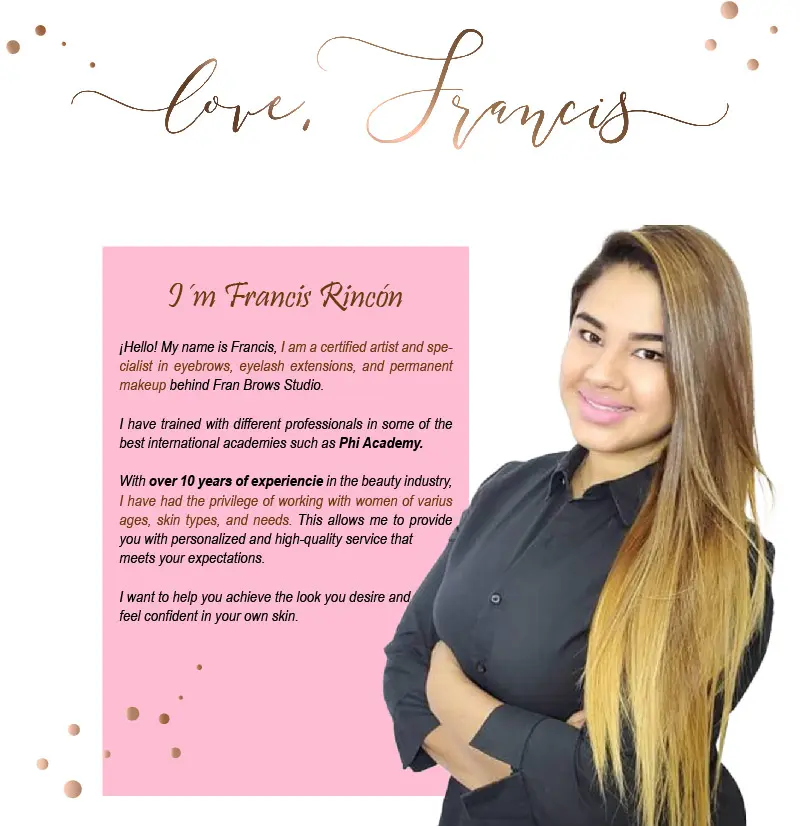 Madison Redman
2023-07-01
I adore Fran! Her studio was clean and welcoming, the seating was amazing and I was comfortable my whole session! I had my eyebrows laminated and tinted for the first time ever and I trusted Fran with my whole brow life and she absolutely DELIVERED! I loved everything about how they turned out. She made me feel like a forever client even on my first visit and made sure to give me all the info I needed to take care of my brows correctly! Not to mention my first visit I was on crutches from knee surgery and she was extremely gentle and helpful, constantly making sure I was okay and careful with my knee! Thank you Fran💗
I'm very particular with my eyebrows and don't trust a lot of people to touch them. I have very blonde eyebrows and lashes so iv run into people who don't know how to tint them correctly and they go way too dark. Fran got them PERFECT, will absolutely be back, between shape, color, and making sure I was comfortable every step of the way I was blown away.
Beautiful space, fantastic service! Booking online was easy, I got a brow design and tint. Fran made sure I was comfortable and happy with the shape and color of my brows and gave me tips on how to make them last. She also recommended a serum to help with my thinning brows. I love how they turned out and will be back!
yamily Zambrano
2023-03-12
Mis cejas ahora estan en las mejores manos. Y me queda super cerca de mi casa. El lugar esta muy lindo y super limpio.
Johana Bermudez
2023-02-23
El trabajo de Francis es impecable, y aparte ella es un encanto de persona. El lugar súper limpio y relajante. Súper recomendada!
I had my eye brows tinted. When I got home I realized they were too dark. I contacted Fran and she immediately wanted to help ensure I was happy. I went back over to the studio and Fran was extremely patient with me to get them exactly where I wanted them. She never made me feel guilty or rushed me. She was patient and purely focused on pleasing me. I would recommend Fran and her amazing customer service to everyone. Thank you Fran. I am overjoyed with my eye brows now. They are PERFECT!!!
Brenda Ventura
2023-01-12
Una excelente experiencia muy buena atención, excelente trabajo me encanto 🥰 un local muy lindo Francis hace lo mejor definitivamente lo recomiendo y lo visitare nuevamente, que Dios bendiga de una manera muy especial este local .!!!
Absolutely wonderful! Great personality, fantastic job on my eyebrows!
FREQUENTLY ASKED QUESTIONS
What is Lash Lift and Tint?
Lash Lift and Tint is a treatment that lifts and curls your natural lashes from the root, giving them a longer and more defined appearance. Additionally, a special tint is applied to further enhance the result.
How long does Lash Lift and Tint last?
The results of Lash Lift and Tint can last between 4 and 6 weeks, depending on the natural growth cycle of your lashes. You'll enjoy beautiful and envy-worthy lashes for weeks.
Is Lash Lift and Tint safe?
Yes, Lash Lift and Tint is a safe and non-invasive treatment. Our highly trained professionals ensure a safe and comfortable experience.
Is the procedure painful?
No, the Lash Lift and Tint procedure is painless. You'll feel relaxed and comfortable during the session while our specialists work on your lashes to achieve the desired results.
How long does the procedure take?
Lash Lift and Tint typically takes around 1 hour and 30 minutes (maximum 2 hours). Our team will ensure that the treatment is done efficiently and carefully, so you can enjoy your transformed lashes in no time.
Do I need to follow any special care after the treatment?
After Lash Lift and Tint, it is recommended to avoid contact with hot water and oily products for the first 24 hours. This includes steam baths, sauna, and excessive sweating. But don't worry, during the treatment process, we will provide you with detailed instructions for the proper care of your lashes.
Can I use mascara after the treatment?
Yes, you can apply mascara after the first 24 hours to further enhance your lashes. However, it is advisable to use non-waterproof mascara.
Why do I need to make a 50% advance payment when booking the appointment online?
We require a 50% advance payment for the treatment to guarantee your appointment and ensure that we can reserve exclusive time for you. This allows us to efficiently manage our schedule and provide you with timely and quality service. By making the advance payment, we guarantee the availability of the treatment on the selected date and time.
To facilitate the payment process, we use the trusted platform of Booksy, which is globally recognized as the #1 appointment booking platform. Booksy ensures a secure and reliable payment system for your convenience and peace of mind.
Where is your salon located?
Our salon is located at 734 Holcomb Bridge Rd, Suite A, Norcross, 30071. We are in a convenient and easily accessible location to provide you with a comfortable and enjoyable experience.
Why choose us over other beauty salons?
At our beauty salon, we take pride in offering exceptional service backed by our 4.9/5-star rating on Google Maps. We value the satisfaction of our clients and strive to deliver impeccable results in every Lash Lift and Tint session.
Our testimonials from happy clients speak for themselves. We have a high percentage of satisfied customers, with over 98% of them delighted with our treatments. We are committed to providing a unique and transformative beauty experience.
In addition to our online reputation, our team of highly trained professionals is dedicated to creating a warm, welcoming, and safe environment for every client. We focus on understanding your needs and customizing the service to give you perfect brows and stunning lashes.
In summary, choosing us means trusting a beauty salon with a strong reputation, positive client testimonials, and an expert team in Lash Lift and Tint. We invite you to experience the difference and book your appointment with us today!
© 2023 – Franbrowstudio
All rigths reserved – Privacy Policy